"We hope you feel the same rejoicement as we delightedly do while collectively putting together our heart and soul to present an amalgamation of art and sustainability at your platter. Thereby aspiring to create and conquer a special place in your heart and your closet." - Bidisha Adhikary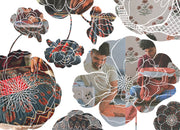 About Us
Bidisha Adhikary - A brand started with a vision of aspiring to achieve and evolve, now unfurling rigorously. With all benevolence and sheer compassion, we would thrive for you to be a part of our journey. The Label started by Bidisha, a Textile Graduate from NIFT, having vast experience of 8 years in Fashion industry. The sole motif is to unfurl sustainable, sophisticated and niche designs in current market. Bidisha comes from an art family & has strong hand in making very intricate & exquisite prints which she further amalgamates with fine fabric and hand work techniques to amplify and portray her garments appealingly. Each garment personifies itself with techniques like the age old hand block printing, screen printing & hand embroideries surfaced with multiply fabric manipulations. Bidisha believes in inclusiveness & creating a meaningful & responsible brand where 'Serving back the Society' remains at the center whilst providing an unflawed experience.
Free shipping
We want you to be happy with your purchase. Therefore, shipping is on us and you can return your items up to 90 days.
Express delivery
Don't feel like waiting? Our express delivery service ensures you receive your new items within 5 business days.
New styles
We're constantly designing new styles and collections. Come back soon to discover what's new and pick your favourite